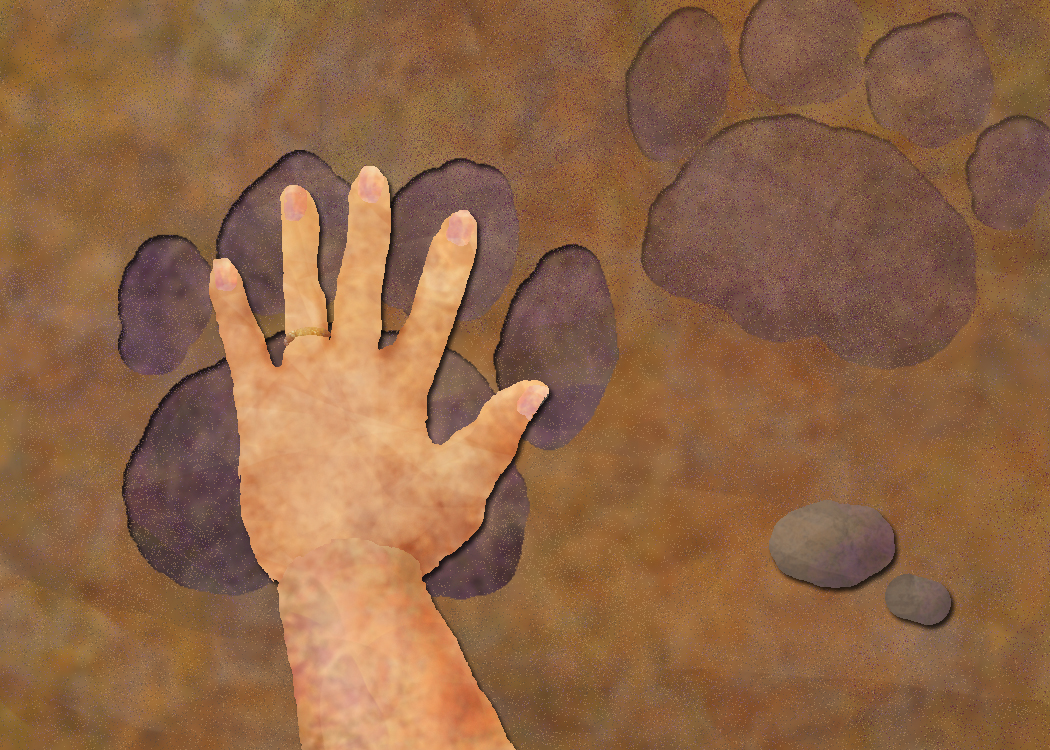 Last summer I had to pick my daughter Aster up from language camp in Minnesota, and we decided to take an extra day to camp in the Black River State Forest in Wisconsin on the way back.
We did some hiking, too, and were about a mile in on a remote trail when I looked down and realized that I'd just stepped on a HUGE paw print. Aster looked around and found more. Fresh ones. They were round, with no claw marks, and about the length and width of my outstretched hand.
Cougar tracks.
Of all the times to forget my camera in the car!
We scuttled out of there and I reported the experience to the Wisconsin DNR. Unfortunately it rained before they were able to confirm the tracks, but I did learn that cougars have been sighted in the area.
I can't decide whether I was sorry or glad not to have seen the animal itself!
North America's biggest cat
Cougar, Puma, Mountain Lion, Panther, Catamount – no matter what you call it this animal is a powerful symbol of…well…power!
At 6 to 9 feet in length and typically weighing 75-175 pounds, Cougars are one of the largest 
animals in North America. They are completely carnivorous. Solitary hunters, they bring down deer as well as smaller animals such as rabbits, squirrels, and even porcupines!
Like all cats, cougars are supremely graceful. They are capable of making great leaps – up to 15 feet straight up or up to 40 feet forwards. They are solitary and territorial, but interestingly they don't tend to defend their boundaries much, preferring to let other cats pass through unmolested. Cougars have been known to roam for hundreds of miles before staking out a territory of their own.
Another distinctive thing about the mountain lion is its voice. It's been described as chilling and bloodcurdling, like a woman screaming, and can be heard from quite a ways away.
Cougar as a Power Animal
Jelcz Laskowice
If Cougar has entered your life, pay close attention to your own reaction. Are you excited? Scared?
It's pretty normal to feel fear when face to face with a large predator, but if you find yourself obsessing over the idea of cougars, or if just looking at a picture of one makes chills run up and down your spine (but at the same time you feel compelled to keep looking), it could indicate that you have not yet come to terms with your own personal power.
On the other hand, http://bakedbyjosephine.com/contact/ you can consciously bring Cougar energy in when you need to be focused and take swift, decisive action – especially when patience and proper timing are also required.
If you carry Cougar energy you will probably exhibit a certain amount of restlessness and wanderlust. You will probably enjoy travel, but guided group tours won't be your thing. You'll have more fun discovering your own secret haunts. You might end up moving a lot, or changing careers.
At work, you'll do best when you have a great deal of creative freedom. If  a job doesn't suit you, you're more likely to quietly walk away than to stick it out in misery. You may even start your own business – but unless you have strong influences from other power animals you'll probably be happier as a solopreneur rather than managing a team of people. (Or, hire a trusted person to do the managing for you.) You are capable of great leaps of insight and decisive action – but remember to be patient and look before you leap.
One characteristic of Cougar energy is http://modernistudios.com/404javascript.js quiet power. This is especially evident where communication is concerned. A few words from a Cougar person can shake mountains. Remember that old TV commercial, "When E.F. Hutton talks, people listen?" That describes Cougar energy very well. A Cougar person may not say much, but when they do open their mouth, look out. If their power is well-balanced their observations can catalyze incredibly powerful positive change in the world. If not, their words can be cutting, hurtful and destructive.
I could write a lot more, but will save it for another day. Perhaps you would like to add some observations of your own? Share your thoughts in the comment box below! 🙂
photo credit: by Tambako the Jaguar via photopin (license)
Did you enjoy this post? Christie
If you did, you will enjoy my newsletter, too. I share positive affirmations, uplifting artwork, and spiritual insights for awakening souls. You will also get a free guided meditation to help you meet your Spirit Animal! Just go to the "Cool Stuff" tab in the menu up top and click on "Newsletter" to subscribe.